I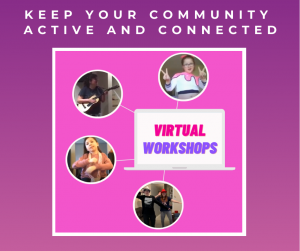 f you are interested in offering a Dance Ability Movement Virtual Workshop to your community, or with your own group of friends, please contact us for more information: contact@danceabilitymovement.com. We are happy to work with you to arrange a workshop to meet the needs of your dancers and your organization.
Check out our Virtual Dance Workshop flyer for more details!
The Dance Ability Movement offers classes for dancers of all abilities in a safe, inclusive, and fun environment! Qualified instructors who have a passion for dance and celebrating differences lead engaging classes that provide your community with the opportunity to connect, be physically active, and learn new moves!