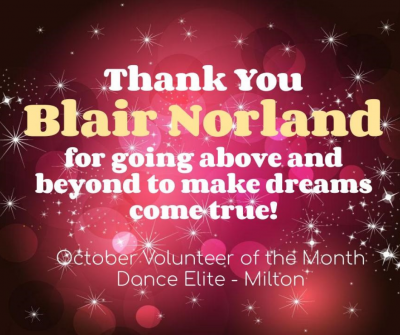 Blair truly understands that all dancers deserve the opportunity to move in ways that feel good to them, and participate in ways that are safe and provide opportunities for connection.  Blair has been a true collaborator with the FAMILY of his dance buddy, coming up with creative solutions with the team to ensure his dance buddy is having FUN. He has become a true FRIEND to his dance buddy, which is evident in the way his buddy lights up and smiles when he sees Blair!
Blair was nominated Volunteer of the Month by his dance buddy's mom! Here is a special message she shared with us on how Blair has been going above and beyond to make dancing dreams come true:
"Blair has been so incredible with my son for two dance seasons already. With COVID I wasn't sure how my son would be able to participate in his third season but Blair is making it happen! It won't be quite the same as previous years I know but it's amazing to see how Blair is adapting and how my son is responding. What I admire most about Blair is that he is always getting my son out of his wheelchair to get him moving and engaged with the class. My son is very lucky to have him as his dance buddy."
Blair, we are so lucky to have you as part of our team and are truly grateful for the experience and genuine fun you bring into our classes. THANK YOU!