We are wrapping up our 2020 World OT Day celebration posts with an interview with Miss Jade, one of the co-founders of The Dance Ability Movement, who is also an OT!
Thank you to our DAM OTs and all OTs around the world for making a difference in the lives of many!
---
How you've been reimagining participation in occupations throughout your career?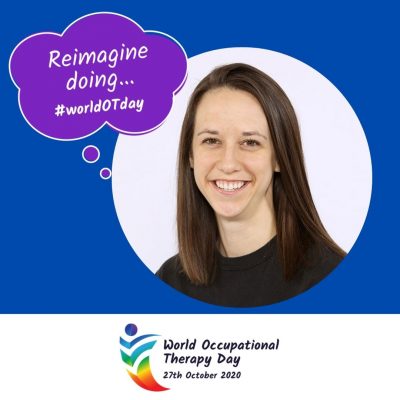 I would have to say, I feel this really captures more than just me as an OT, and gets to the roots of how I view the world! I have been reimagining participation throughout my years in working with children and youth, even before becoming an occupational therapist, which has really instilled in me my core values as an OT. I have always believed holistically in participation in one's community and supporting kids to be kids! When we view participation in everyday activities with the highest value, that is when we can truly see people thrive in their natural environments. There is something about giving children and youth real life experiences to PARTICIPATE and DO the things that we have all grown up doing as kids that helps me to build connections with children and families and makes my heart smile! Getting to go to overnight camp, learning how to walk to school independently, living in residence for the first time, exploring a slide in the playground, and participating in a dance class, are all activities where I have felt I've been able to support children and families to just be themselves and engage in meaningful occupations!
More about Miss Jade
What I like most about being an OT are the connections I am able to make with families.  I appreciate the opportunities I have to be welcomed into a family's life, hear their story, and get to know what makes them unique!  I enjoy learning new family perspectives and seeing how families form their future goals together, working as a team to make possibilities come true!
I've created the Dance Ability Movement because it was not only something I WANTED to do, it was something I felt I NEEDED to do.  If I think about the first question, and "reimagining participation" I guess this makes sense for me and why I created The Dance Ability Movement. At the time, occupational therapists were not always seen in the leisure spaces of children and youth, so for me this was a way to reimagine the role of an occupational therapist. I believe in the power of dance to give a person an outlet, a form of artistic expression, a fun activity, an exercise tool, a place to make lifelong friendships, and SO much more! I wanted this to be the case for all children and youth, providing an opportunity to dance and a space to educate others about how to do so in an inclusive space.
I am excited to dance because this is a vital component to my daily life! A day without dancing is a day I miss part of my heart. On days where I don't have scheduled classes, I try to dance for myself, or have dance parties with family and friends! I've been fortunate to have started running virtual private sessions with dancers, and this time to connect with them 1:1 and share dance together has been so rewarding! Thank you!
I want to learn how to sing!  I still love to sing and belt out a great tune, but if I could hit an actual note, that would be fun! (and probably better for others' ears too!)
My favourite songs are "I Wanna Dance with Somebody" by Whitney Houston and "All I Want for Christmas Is You" by Mariah Carey. I also enjoy Disney, Saturday Night Oldies, and Happy Folk playlists!
Something that makes me happy is…other than dance?! My heart is happy when I go for walks in nature and just take time to sit, breathe, and take in the noises.  If there are children playing in the background, their laughter makes me smile even bigger!
A special message to our DAM community: I want to thank each and every one of you for keeping the joy of dance alive! Now more than ever, we need ways to connect with each other and what better way than to DANCE! You all inspire me so much to continue to persevere and roll with the punches, thank you to everyone who has touched our DAM community in some way, past and present! I get a huge smile and giggle every time a past parent emails and says "I don't know if you remember me but…" – chances are I do! These interactions with my DAM community mean the world to me!