Our 2020 World OT Day celebration is coming to an end! Today, you will know more about the Ryan sisters, founders of The Dance Ability Movement, who are also OTs! Check out Miss Mallory's interview below and stay tuned for Miss Jade's post.
---
How you've been reimagining participation in occupations throughout your career?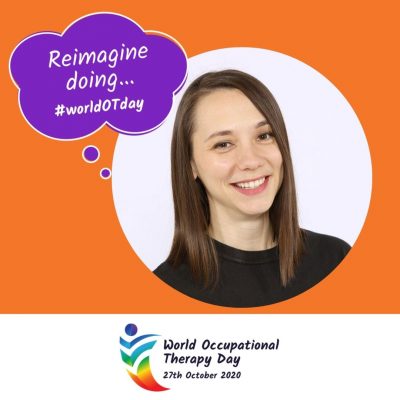 Throughout my career, I've been fortunate to 'reimagine doing' in many ways with my clients. Thinking outside the box, enabling them to see how they can do things in different ways, and many times it's more about supporting the environment around them to see what really matters in terms of participation!  The pandemic has inspired a wave of reimagining how people will participate in their everyday routines. For us at The Dance Ability Movement we've seen incredible resilience in terms of finding ways to dance 'together' at home. We celebrated our 10th season with inspiring virtual showcases that highlighted the strengths of our community in new ways we would have never imagined. We're continuing to move through this difficult time together, learning and adapting as we go. What I've learned is if you continue to focus on the essence of doing, what is most important, then the rest will follow. With dance, when we can give people space to move at home, share music and movement, we feel our energy and moods improve, and we continue to feel connected to each other even from afar.
More about Miss Mallory
What I like most about being an OT is collaborative problem-solving, learning from my clients what is important to them, and discovering creative solutions to enable engagement in things that are the most meaningful for people! I love that the field of Occupational Therapy is both a science and an art that gives space for innovation and new ideas.
I've created the Dance Ability Movement because everyone deserves the chance to dance! Dance is universal, it connects us, it allows for freedom of movement and expression, and it is FUN! I love discovering the dancer inside each person and watching them grow their confidence and changing others' perceptions along the way. For me personally, it has shaped who I am as a dance teacher and choreographer, and inspired me to think in new ways to create innovative choreography!
I am excited to dance because for me, dance is a part of who I am. It allows me to move freely while also focusing my mind, providing a positive outlet for both my physical and mental health. I look forward to meeting new dancers and watching how they each shape our dance community.
I want to learn how to really throw down in a hip hop dance! Or learn any NEW style of dance. Growing up I come from a ballet/jazz trained background, and I love learning new styles of dance that inspire new qualities and ways of moving! I'd love to bring new styles to our community too – so if you know any great teachers – please connect us!
My favourite music/song is pump up music! Right now, I've been using Walk Off the Earth's "Here we go!" to kick off our Performance Crew classes. I also love musicals!
Something that makes me happy is when I see how passionate our team is – watching our instructor's teaching, our OTs working with families, our volunteers connecting with dancers – it makes me overwhelmingly happy!
A special message to our DAM community: Thank you for making dancing dreams come true! Keep the music on and the dance will follow…in whatever spaces you have right now – it's important now more than ever!