Continuing with our 2020 World OT Day celebration posts, we are sharing with you an interview with Miss Amanda, one of our new OTs!
We hope you enjoy it! Stay tuned for tomorrow's interviews with Miss Mallory and Miss Jade!
---
How you've been reimagining participation in occupations throughout your career?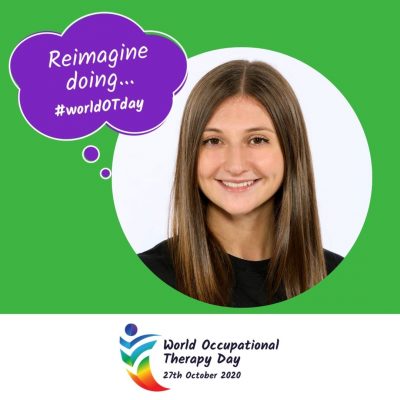 Participating in occupations is more than being able to complete a task "perfectly" or in the "right way". Throughout my OT career, I have reimagined participation in occupations as being able to do the activities that you want or need to do in whatever way works best for you!
More about Miss Amanda
What I like most about being an OT is being able to help people achieve their goals and participate in the activities they find meaningful.
I've joined the Dance Ability Movement because I believe that dance allows people to have fun and build skills in an inclusive and supportive community. I believe everyone should have an opportunity to dance!
I am excited to dance because I love watching everyone have fun and have an opportunity to shine!
I want to learn how to tap dance
My favourite music is Disney Music!
Something that makes me happy is dancing with all my Dance Ability friends.
A special message to our DAM community: The Dance Ability community is such a positive group of amazing and talented dancers and families. I am very excited to share my love for dance with you all and to help you have an amazing dance season.