30-minute Virtual Private Dance Sessions!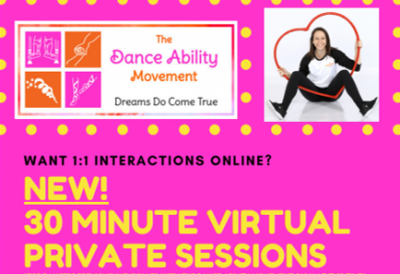 Students can now sign-up for 30-minute virtual private sessions with one of our Occupational Therapists or Dance Instructors. We have options for Dance & Social sessions or Private Dancing OT time. Check out the options on the Parent Portal and connect with us to see which one better suits your dancer's needs!
You can book one or as many sessions as you want at a time!
For more details, please check out our Virtual Private Dance Sessions flyer!
We can offer daytime or evening sessions. Please email us at contact@danceabilitymovement.com so we can better coordinate.