As you may know, October 27th is World OT Day and we are celebrating our wonderful OTs throughout the week! Today, you will learn more about Miss Nadia!
We hope you enjoy it!
---
How you've been reimagining participation in occupations throughout your career?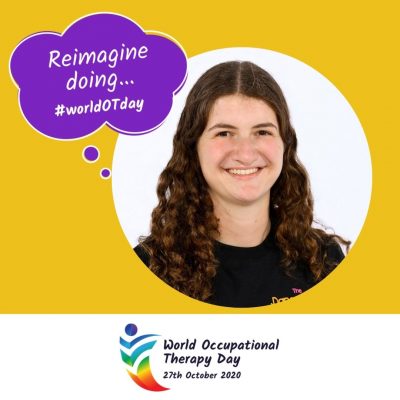 Participation can look different for everyone, and how it looks on the outside doesn't matter. All that matters is how it looks to the person participating. There is no correct way to participate in an activity as long as you find the activity meaningful, engaging, and fun!
More about Miss Nadia
What I like most about being an OT is the ability to work collaboratively with people to achieve their self-determined goals in all areas of life.
I've joined the Dance Ability Movement because I am passionate about inclusion and fitness and believe that everyone deserves a chance to have fun!
I am excited to dance because it is a fun, engaging activity that can be done just about anywhere, by anyone!
I want to learn how to do an entire dance routine to a song.
My favourite music is country music.
Something that makes me happy is baking chocolate chip cookies.
A special message to our DAM community: Keep on moving, dancing and being yourself!