In this post, as part of our 2020 World OT Day celebration, we would like to recognize Miss Mara, one of our new OTs who joined our team this season!
We hope you enjoy it! Don't miss tomorrow's interviews with Miss Amanda and Miss Nadia!
---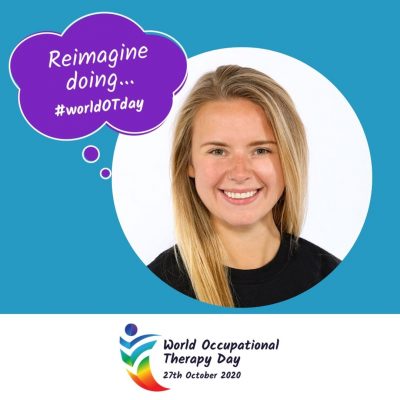 How you've been reimagining participation in occupations throughout your career?
Reimagining participation in occupations gives us the unique opportunity to make it our own, make it different and maybe even make it better. It's all about perspective.  As I start my journey as an occupational therapist, I am inspired to think outside the box to enable individuals to participate in activities that are meaningful to them in a way that works for them!
More about Miss Mara
What I like most about being an OT is its holistic nature and its call for creativity, compassion and connection.   I appreciate the healing power of occupation and one's ability to maintain wellness through occupational engagement.
I've joined the Dance Ability Movement because I love the inclusive community they have built that celebrates diversity and uniqueness!
I'm excited to dance because I was also a dancer growing up and I truly appreciate the benefits of dance on health and well-being!  Dance has always been a way for me to express myself and to let loose and just have fun! I'm excited to have it back in my life!
I want to learn how to floss!
My favourite song is "Somewhere Over the Rainbow" by Isreal Kamnakawiwo'ole.
Something that makes me happy is spending time in nature!
Special Message to DAM community:  You all are absolute rockstars!  Keep Shinning and Keep Dancing!