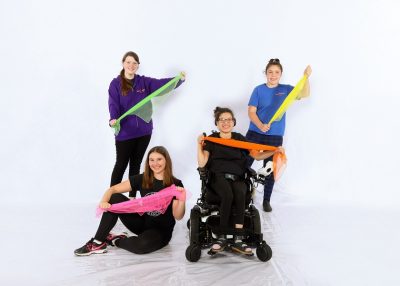 The Dance Ability Movement offers classes for dancers of all abilities in a safe, inclusive, and fun environment! Qualified instructors and Occupational Therapists (OT) who have a passion for dance and celebrating differences lead engaging virtual and in-person classes that provide dancers with the opportunity to connect, be physically active, and learn new moves!
We have just launched our new virtual dance class schedule and opened registration on our Parent Portal, so students can continue to experience the joy of dance during Winter and Spring!
Our online classes will be facilitated on Zoom by one of our team members, and taught by our qualified instructors. All classes are inclusive and seated adaptations will be modelled. Dancers residing anywhere in Ontario can register for these classes, regardless of the location listed! Check out our 2021 Online Classes schedule for more information.
For now, in-person classes are available for select studios and for dancers who can safely participate according to Covid-19 protocols. Limited spots available for our in-person classes but visit our Locations page for a list of our host studio partnerships for future class offerings.
Dancers that are new to the Dance Ability Movement will be contacted by one of our Occupational Therapists to have a 30-45 minute meeting through Zoom to assess their needs, set their goals and prepare for the start of classes. This OT intake fee is additional to our tuition fee and also includes a 1-2 page summary report completed by the consulting OT outlining the dancer's participation in class and strategies used to support skill development.
If you would like to reach out to us to discuss what class is best for your dancer or if you have questions about registration, please reach out to us at contact@danceabilitymovement.com
Join us for a FREE virtual trial class on December 15th at 5:30 pm!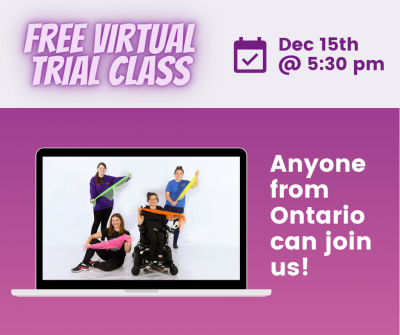 If you are not sure if virtual dance classes are a good fit for you, you can join us for a FREE online trial class on December 15th at 5:30 pm! This is a great way to get connected with us via Zoom, try out a few dance songs at home, and meet some of the Dance Ability Movement team.
When: Tuesday, December 15th: 5:30 – 6:00 pm
Where: Zoom meeting
Sign-Up: If you're interested in joining, please sign-up here. We will send you an e-mail with the event link.
See what some of our dancers' parents are saying about our virtual classes!
"Serena is really enjoying the online classes. I know she is totally isolated since she is an only child and it is nice for her to see actual faces and hear their voices.  It gives her a sense of normalcy in this difficult time. She loves having the living room to herself and see herself on the TV which we attach from the laptop. Since she hasn't facetimed or video chatted with anyone, joining in the virtual dance classes makes her very happy!" – Lisa, Serena's mom
"Janina's enjoying it immensely and it's the one thing she imperatively holds onto and looks forward to every week. She uses her iPad to connect to her classes and although she still feels sad and upset at times about not being able to be there physically, she's taken to the virtual connection very well and wakes up every Saturday morning thoroughly excited and gleeful to dance. It also allows her to stay connected to her dance friends and practice a new set of social cues. It's a great practice in her social and overall regulation as it requires her to wait patiently for the session to start and requires turn-taking." – Janina, Janina's mom