If you want to dance, have fun and connect with new friends throughout the summer, our summer programming can help you with that!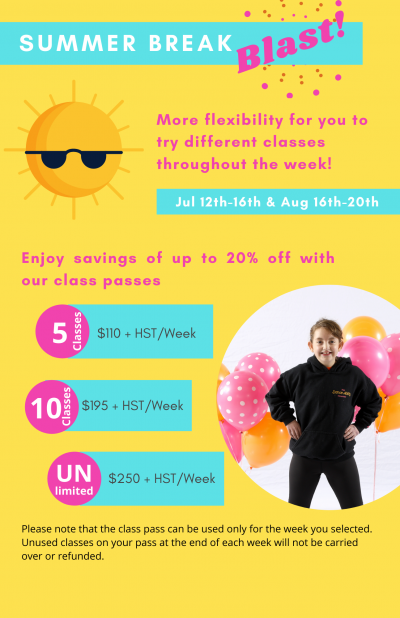 Summer Break Blast (FLEXIBLE OPTION)
More flexibility for you to try different classes throughout the week!
Our Summer Break Blast will run on the weeks of July 12th – July 16th and August 16th – 20th to fill your days with lots of DANCE and FUN! We have a variety of virtual dance classes and activities to keep you moving and having fun all week long! Check out our class options for Kids/Tots and Teens/Adults:
Musical Theatre
Creative Movement
Ballet/Lyrical
Ballet
Jazz
Jazz Bop Kids
Cardio Dance
Stretch & Strengthen
Rhythm & Tap
Hip Hop
You can purchase a 5 Class Pass or enjoy savings of up to 20% off with our 10 Class Pass or our Unlimited Class Pass to fill your week with lots of DANCE and FUN! You can use your Class Pass to attend whichever classes you'd like for the week.
5 Class Pass – $110 + HST = $124.30 / Week*
10 Class Pass – $195 + HST = $220.35 / Week*
UNLIMITED – $250 + HST = $282.50 / Week*
* Please note that the class pass can be used only for the week you selected. Unused classes on your pass at the end of each week will not be carried over or refunded.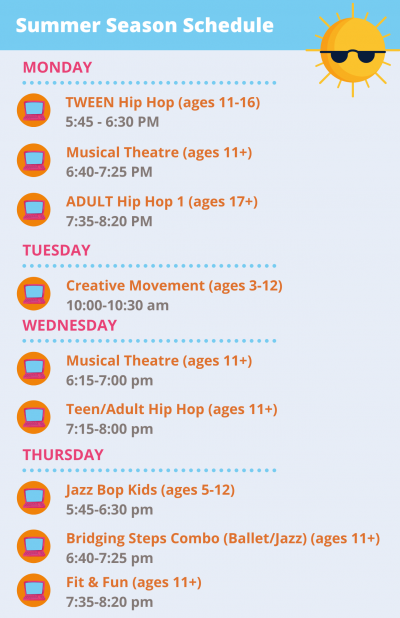 Summer Season (FIXED OPTION)
Keep active and have fun all Summer long!
We offer a variety of classes for ALL ages and abilities throughout summer! Classes start the week of July 5th and run until August 30th. Our online classes will be facilitated on Zoom by one of our team members, and taught by our qualified instructors. For class options and schedule, please click here.
New students will have a 45-minute intake meeting with one of our OTs through Zoom to assess their needs, set their goals and prepare for the start of classes. Each NEW dancer will receive a short summary report completed by the consulting OT outlining the dancer's participation in class and strategies used to support skill development. Our Occupational Therapists are trained in using the PREP approach and look forward to helping create your participation team! The OT Intake Fee is $155 + HST for NEW dancers.
Summer Season Fees:
45-minute class: $180 + HST = $205.66
30-minute class: $130 + HST = $146.90
If you are a current or previous dancer with us, please sign-up for our Summer programming on our Parent Portal!
If you are NEW to The Dance Ability Movement, find more details about our programming and sign-up to here!