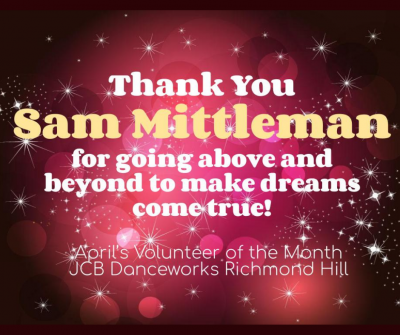 Sam was nominated by her JCB instructor team because she continuously supports a more positive FUTURE for our dancers and team. She has become such a huge member of our FAMILY and adds so much to our community.
During our theme weeks, Sam always shows her FUN spirit with amazing costumes and positive attitude. She has taken on more and more leadership as the year has gone on. Sam is always thinking about how to make the program more inclusive for our Dancer's FUNCTIONS, bringing such creativity into adapting the movements to everyone's strengths.
Sam is genuinely kind and gentle in nature, making her such an asset to the Wednesday night Volunteer Team!
Thank you for all you do for our dancers and community Sam!