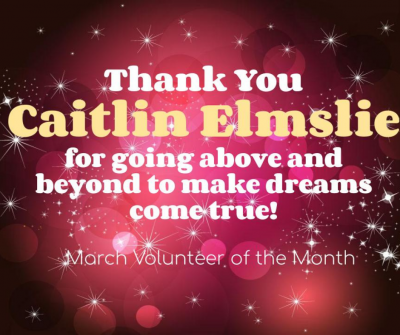 Caitlin has been such a huge addition to our volunteer team, bringing her passion for dance and Occupational Therapy (OT) in our community. Caitlin has been able to join the Dance Ability FAMILY and make such an impact on so many of our different classes. She has gone above and beyond constantly, giving up so much of her time to support our different classes.
Caitlin's FUTURE as an OT has made her such an asset to our volunteer team. She has been able to find the intersections between Dance and OT flawlessly, supporting the growth of our dancers, classes and her volunteer teams. Caitlin has such a FUN energy to her and she is beloved by dancers and her fellow volunteers. She brings contagious excitement into class and possess great leadership qualities, navigating them with professionalism through the virtual context.
Caitlin was nominated by multiple instructors that she works with. One noted:
"Caitlin jumped into the virtual volunteer role this year as a first-time volunteer and quickly started taking on leadership roles within her classes and our community! She's gone above and beyond this month to share her design skills with us to help create amazing resources to share with our families, and within her classes has taken on so many roles, including teaching a musical theatre combo to our Social DisDANCE dancers. She takes the time to get to know the dancers and welcomes feedback on how she can best support the group, and is always ready to step up and do a little bit more!"
We are so grateful to have you Caitlin and thank you for all that you do to help make our Dancer's Dreams Come True!