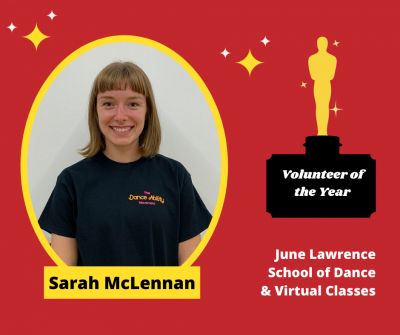 The Volunteer of the Year award is presented to a volunteer who has consistently gone above and beyond in their role, has been an exemplary role model sharing their passion for dance, and demonstrates the values of The Dance Ability Movement by helping us build our dance community.
Sarah began volunteering at our Mississauga location, June Lawrence School of Dance last year when we were allowed to be at the studio and has quickly adapted to the virtual classes. With a beautiful energy and friendly approach, Sarah has been interacting well with dancers both online and in-person. She embraces each theme week, dressing up for classes and being excited to share in the dancers' enthusiasm! Sarah has taken the time to get to know each dancer, and offers very reflective dialogue after classes to facilitate further support for dancers.
Being flexible with the changing demands and expectations this season has brought, and being willing to offer an extra helping hand were valuable skills Sarah has brought to our team. She has gone above and beyond in her role, offering to support behind the scenes initiatives and fully sharing her passion for dance and supporting others to be the best they can be!
We are truly grateful for Sarah's dedication and commitment to supporting our community and making dancing dreams come true!
Sarah kindly accepted our invitation for an interview about her experience with The Dance Ability Movement. We hope you enjoy it!
What was the main reason that motivated you to volunteer with the Dance Ability Movement?
I have been a freelance dance artist in Toronto for the past few years while also teaching Pilates on the side. When Covid-19 hit, my whole world stopped! I wasn't able to work in my field, and it gave me an opportunity to reflect on what I was doing, and whether or not it made me happy. I LOVE the movement of dance so much, but was finding my professional career in dance wasn't so fulfilling. I was doing some research on something new to pursue, and through talking to different professionals I discovered occupational therapy (and later the Dance Ability Movement!). DAM was a shining light throughout the pandemic for me, I immediately fell in love with the movement and the community. The dancers and teachers are huge inspirations, I feel so lucky to have found the Dance Ability Movement and have the opportunity to dance with everyone!
Do you think your experience with DAM has changed your perspective about inclusion and people of all abilities? How?
Absolutely! Seeing the different relationships people have with dance has also changed my perspective on dance! The most inspiring thing about Dance Ability is how the classes are organized in a way that dance is a vessel for other life skills: communication, confidence, and responsibility. Seeing the dancers interpret music and express themselves, challenge their bodies and get their hearts pumping, and make meaningful connections with the people in the room (the zoom room as was the case this year) changed the way I approach communicating and teaching. Dance belongs to everyone, and exists everywhere, not just on a stage in a performance!
What was the most rewarding thing about volunteering with us? And most challenging?
The most rewarding part about volunteering was meeting all of the wonderful people involved in Dance Ability. From dancers to teachers to fellow volunteers, I was so lucky to spend a year with these talented, kind, and genuine people. I have never been a part of such a cohesive group of like-minded individuals. I am grateful to have been included in so many Hip Hop classes and to watch the dancers strut their stuff. I have learned so many new moves from the dancers…I'm ready to hit the dance floor at all of the parties/weddings/celebrations that had to be cancelled because of Covid!
The most challenging part was trying to be a good tap student. I had never done tap before being involved with Dance Ability and learning on zoom (and trying to be a good model on zoom) was tricky, but Miss Devon did an amazing job at keeping the dancers engaged and having everyone stepping in time!
What advice do you have for other people considering a volunteer opportunity with us?
Just do it! This is an amazing opportunity to meet some wonderful humans, and be a part of something meaningful. Be yourself, and get ready to have a blast connecting with lots of new friends and learning some great dance moves. This is a community I am so grateful to be a part of. The Dance Ability Movement is one of those unique places where there is mutual give and take; dancers, teachers, volunteers, and the OTs are all benefitting from this inclusive and inspiring environment.
We are so lucky to have you on our team, Sarah! Thank you for sharing with us your positive energy, passion for dance and inclusive mindset. We wish you all the best on your journey of pursuing studies in OT next year!