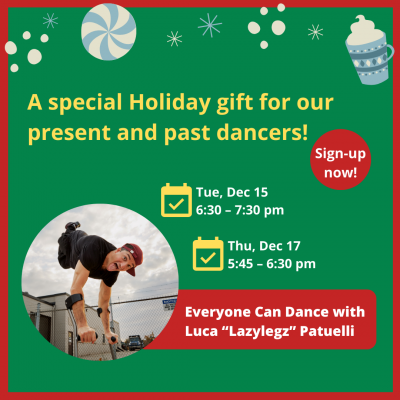 We know this has been a difficult year so we've decided to run special events throughout the month of December to lift our dancers' spirit and keep our community virtually connected! All our present and past dancers, volunteers and staff can join these events for FREE!
Everyone Can Dance with Luca "Lazylegz" Patuelli
When: Part 1: Tuesday, Dec 15 @ 6:30 pm – 7:30 pm / Join us to watch a video conference outlining Luca "Lazylegz" Patuelli's life and his journey as a BBoy (Registration will close by Tuesday, Dec 15 at 3 pm)
Part 2: Thursday, Dec 17 @ 5:45 pm – 6:30 pm / Live dance session with Luca followed by a Q&A where dancers can ask him questions. (Registration will close by Thursday, Dec 17 at 3 pm)
Where: Zoom meeting.
Who: present and past DAM dancers who are 8+ years old. Dancers will need a chair and enough space to be able to spread their arms out and roll on the floor.
Luca Patuelli also known as Lazylegz started dancing (B-boying) at the age of fifteen. His unique approach to dance is how he achieved worldwide recognition; he developed his personalised dance style by incorporating his incredible upper body strength and his crutches as accessories to his performance. His passion for dance has led him to be featured on the Ellen show, So You Think You Can Dance Canada, America's Got Talent amongst many others.
Learn more about Luca's professional and personal journey and sign-up for the events now: https://bit.ly/2K7uOiU
Stay tuned for more events in December!