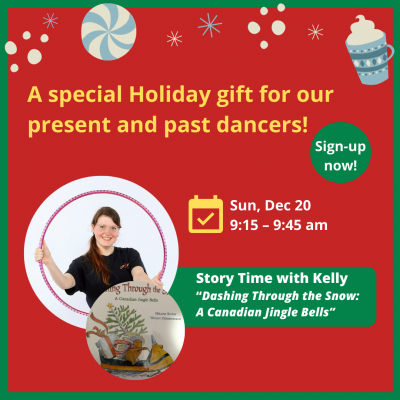 Are you ready for a Holiday Story Time? Grab your pillows and blankets and enjoy the book "Dashing Through the Snow: A Canadian Jingle Bells" by Helaine Becker. Join our volunteer Kelly and a wild cast of Canadian characters as they take over the Christmas holidays to the familiar tune of "Jingle Bells"! Don't forget to bring your favourite book!
All our present and past dancers can join the event for FREE!
When: Sunday, Dec 20 @ 9:15 am – 9:45 am
Where: Zoom meeting.
Who: Present and past DAM dancers (Ages 3 – 12)
Sign-up now: https://bit.ly/3gsadC1
Let's get into the Holiday spirit!