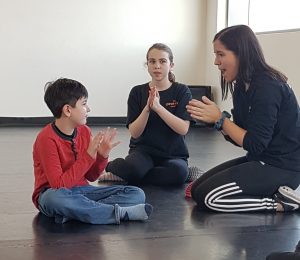 We are currently looking for an Occupational Therapist to provide services in Alliston. Dance classes primarily take place on Fridays and the candidate may provide anywhere between 2-10 hours a week.
Why Work with Us?
Working with The Dance Ability Movement is more than just a job. It's an opportunity to use your talents to make a difference in the lives of dancers of all abilities. As an OT you will bring to life our Dance Ability Philosophy that states we are all unique, we all deserve equal opportunities and we all have the ability to dance. You will be joining a team that embraces inclusion, shares a love for dance and is committed to creating a community where everybody can experience the joy of dance and thrive.
Occupational Therapist, Casual Independent Contract Position
Pay Rate: $32 – $35/hour
Program Description: 
The Dance Ability Movement strives to:
Be inclusive for all.
Enable dancers to express themselves and realize their potential.
Inspire dancer's participation in a way that is adapted to provide appropriate challenges for each individual in a safe and enjoyable manner.
Develop a community among families and participants of The Dance Ability Movement programs and their host studios.
Raise awareness about individuals with special needs as contributing members of society.
The role of the Occupational Therapist is to carry out the above mission of The Dance Ability Movement. The OT will demonstrate the core values of The Dance Ability Movement, advocating for students of all abilities to participate in their community leisure occupations. The OT will enable the participation of all dancers within the host studio environment through collaboration and education of the dance instructor, host studio owner, volunteers, and dance families. The OT does not need to have dance experience, although this is an asset (especially teaching experience).
The OT responsibilities will include: 
Establishing the studio culture in alignment with The Dance Ability Movement through supporting the studio team, advocating to studio owner, promoting inclusion, family-centred care, etc.
Recruitment and training of volunteer team prior to the start of classes; providing verbal and written feedback to volunteers throughout the session
Education and planning with dance instructor prior to start of classes
Ongoing education, support, and collaboration with instructor and volunteer team
Recruitment and registration of interested dancers; initial OT intake assessments with family and dancers, goal-setting and tracking, coaching, capacity-building and documentation (virtually and/or in-person)
Collaboration with community health professionals, advocating for programs, funding, etc.
Ongoing facilitation of dancers' participation within dance classes; ongoing communication with families
Qualifications: 
Registration with the College of Occupational Therapist's of Ontario (COTO) in good standing
Member of CAOT and/or OSOT; must have insurance coverage for independent practice
Preference for a minimum of 3 years of recent and related experience working as an OT
Preference for recent and related experience working with children (toddlers – young adult) with unique abilities including developmental delays and neuromuscular disorders
Demonstrated knowledge of Occupational Therapy theory, best practices, principles, and treatment techniques for clients with Autism Spectrum Disorders
Proven success with essential competencies of Occupational Therapy practice
Preferred experience related to dance; or demonstrated initiative and willingness to learn
Results-oriented work ethic to work independently and undertake tasks needed to accomplish work objectives and deliver quality, consistent and timely results
Demonstrated leadership, conflict resolution, interpersonal and organizational skills
Proven written and verbal communication skills
Proven ability to adapt readily to change
Ability to work independently and effectively collaborate with a team
Excellent computer literacy skills, including use of Zoom video conferencing
Valid Ontario Driver's Licence and access to a car is an asset
Locations
The Dance Ability Movement currently works with seven host studios across southern Ontario. The successful candidate will provide services in Alliston at the following locations:
The Dance Workshop, 96 Victoria St W, Alliston, ON (Friday evenings)
With potential opportunity to service other locations as well.
Please send your resume and cover letter to Mallory and Jade at contact@danceabilitymovement.com. Interview and reference check will be completed with potential applicants on an as-needed basis. We will accept applications until the position is filled.