When Dylan first joined our teen hip hop class, his passion for music and movement was clear. As a student, he is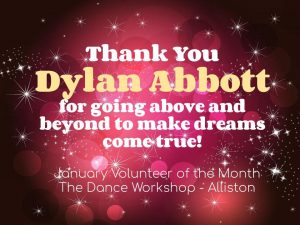 eager to learn choreography and perform with others. Dylan quickly took on the role of welcoming new dancers to the group and breaking down new moves for them.
Helping new dancers was something so natural for Dylan that he asked us to join our volunteer team in Alliston. Dylan quickly connected with his dance buddy who looks up to him as a dancer role model in the studio. It is awesome to see them laughing and busting-a-move throughout class together.
Advocating about the benefits of dance for others is also something Dylan does with a lot of passion. He wants to make sure everyone knows how much fun dance classes at The Dance Workshop can be and has asked his teachers to present and share his passion within his school community.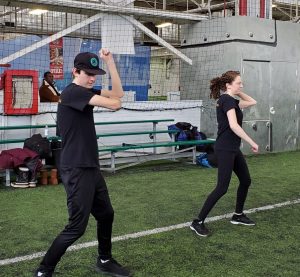 Moreover, Dylan has attended several community information fairs to represent The Dance Ability Movement. This fall, a new dancer joined our Richmond Hill location – and said they met Dylan at the info fair and saw how much dance meant to him which is why they decided to give it a try – how cool!?
Dylan is also now representing The Dance Ability Movement at school and community events, volunteering his time to teach dance to kids in the community. He was a big hit at our recent partnership events with Special Olympics Ontario (read the full story here).
THANK YOU, DYLAN, for Making Dreams Come True! We love your positive energy, passion for dance, welcoming, inclusive mindset, and how you are sharing your talent and passion with others to discover their inner dancer too!
*Important Disclaimer: stories are shared with the intention of promoting an inclusive society and increasing knowledge and awareness of our community. Views expressed are not representative of all participants and may not be indicative of your potential experiences.