At The Dance Ability Movement, we go way beyond offering dance classes. We build inclusive communities through dance. Dance that is done differently, showing that different can mean better, not less!
The Dance Workshop in Alliston is a great example of how parents, dancers, teachers, OTs, volunteers, and the studio owner have come together to help us build an incredible dance community that welcomes everybody with open arms.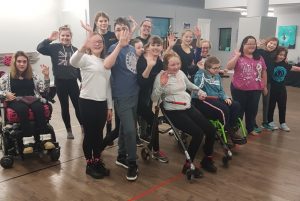 "Dance Done Differently" was the studio slogan that Colleen, the studio owner, chose when opening The Dance Workshop five years ago. "The first time we met Colleen, we knew we wanted to work together", says Mallory Ryan, The Dance Ability Movement Director of Quality & Development. "She exuded enthusiasm and optimism about her visions for her new dance studio. What started out as two inclusive dance classes, has grown into a wonderfully inclusive community that recognizes the value of each individual as part of the studio community".
When you get to the studio, you are greeted warmly in the lobby by welcoming parents, beyond-excited dancers, and friendly volunteers. Each season, they welcome new dancers, ensuring families feel connected to the group.
Last year, Cole joined the hip hop dance class a little late in the season. Dylan, who also takes this class, quickly connected with him. "Cole loved the class", says his mom, Lisa Carlson. "The best part of the whole night was when Dylan shook Cole's hand and said " Cole – you can be a member of my crew!"  It was so sweet and I knew that this was going to be a great class."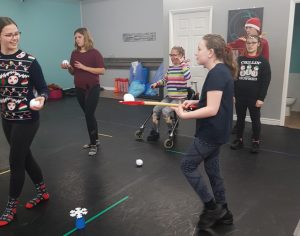 More than helping their dance buddies realize their potential, our volunteers have been creating special connections with them. They visit and socialize with dancers at school and in the community. "Emily is my favourite buddy!", says Madeline Jenson. "I see her at school and she eats lunch with us sometimes. Emily also is a buddy for baseball in the spring, so she really feels like she's on our team in our whole life."
For Abby, being a part of the Dance Ability Movement was also an opportunity to meet new friends. "My daughter Abby loves dancing but, more importantly, she loves the community of friends that she has built", says Shannon McCauley. "Many friends in class are school mates but so many more are new friends that she has met through dance.  They laugh all class and truly encourage each other."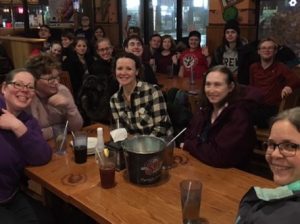 Friendships that have been built throughout these five years are so genuine that the group, including parents, volunteers and dancers chose to spend social time together after dance classes. "We have a group dinner after dance once a month on Friday nights", says Laura Jankovich, Madeline's mom. "The dance buddies all come as well so it's really fostered their friendships. It's been an amazing support group for both kids and all the moms."
Parents have also taken a step further and created a Facebook chat group called Warrior Moms. "Our connections go deeper than dance", says Robin Teal, Brandon's mom. "We have many other things in common from seizures to learning disabilities, ongoing medical and support journeys, so we support each other in several ways. Without The Dance Ability Movement, we would not have built such a strong bond."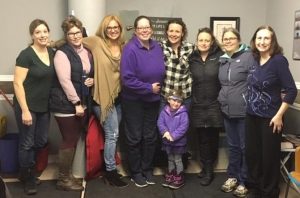 We love to see how dance can connect us in many different ways! Thank you to all Alliston parents, dancers, volunteers, teachers and OTs for helping us build such an amazing community!
*Important Disclaimer: stories are shared with the intention of promoting an inclusive society and increasing knowledge and awareness of our community. Views expressed are not representative of all participants and may not be indicative of your potential experiences.