We are so happy with the successful start-up of our dance program at the Creative Children's Centre (CCDC) in Toronto this season! We can't wait to see our community at the CCDC continue to grow as we start a new session on February 2nd!
"Watching this new studio location start-up was a dream come true for me ", says Jade Ryan, The Dance Ability Movement Director of Inclusion & Operations. "They already have such an inclusion mindset, so it was a natural fit.  Laurie Raymond, the Studio Owner, saw the value in this programming and generously provided the space and gave us the opportunity to let the magic happen!"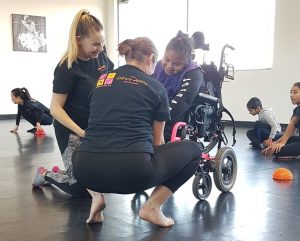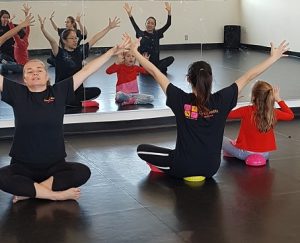 The Dance Ability Movement partners with existing dance studios to help them become more inclusive and offer our program to individuals of all abilities. We help to facilitate the culture of inclusion and build a community within the dance studio space by providing training for the dance instructors, positioning an Occupational Therapist as a partner on the team, recruiting and training volunteers and collaborating with the studio owner to not only build inclusion within the Dance Ability Movement class but help foster it in their community at large.
"I love knowing we are offering classes for all abilities, getting our students and families involved and showing to our community that dance can be facilitated in many ways", says Laurie Raymond, the Creative Children's Dance Centre owner. "I believe the Dance Ability classes will continue to grow and as the families of CCDC become more aware of their existence, they will embrace them and be grateful to have them as part of our dance family".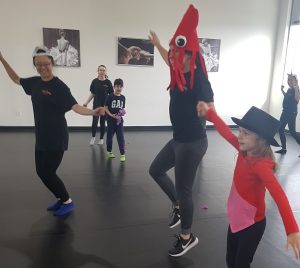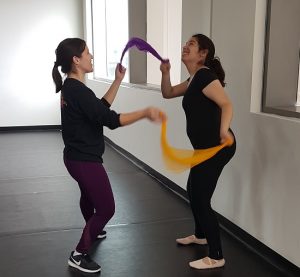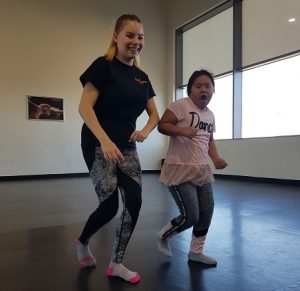 As the success of our program relies on the passion and dedication of our team, we have also invited some of our wonderful team members to share with us their experience with running the Dance Ability Movement classes at the Creative Children's Dance Centre. See below what they have to say.
"I have worked with people of varying movement abilities over the years but working with The Dance Ability Movement was different because of the involvement of Emma, Occupational Therapist, Jade, The Dance Ability Movement Director of Inclusion & Operations, and our talented volunteers.  It is reassuring to know that every dancer is being cared for in their own way by people who have an abundance of experience and techniques. It gives me the opportunity to observe and then see where we could go next."

-Yvonne Nichols, Dance Teacher

"My experience with The Dance Ability Movement at the Creative Children's Dance Centre has reinforced for me the power of dance in bringing us all together, as each week I get to see how quickly and seamlessly this incredible new community has come together. Our families build connections outside of class, our volunteers work hard to support each dancer in learning new things and making friends, and Ms Yvonne effortlessly incorporates her creativity and passion into making every single class fun, and making every single dancer feel included."

-Emma Greenberg, Occupational Therapist

"My role as a volunteer is integral but the focus is on the dancers. I'm there to provide them with an amazing experience, help them realize their potential and thrive. It's been really amazing to learn how we can share dance with everyone, not just people who can afford regular classes and are able-bodied."

-Estelle Tang, Volunteer
It's been fantastic to see the whole team going above and beyond to create an inclusive and welcoming environment for our dancers to thrive. Thank you for helping us make this dream come true!
The word is already spreading fast!
Our tot/kids' class (ages 4-8) is already full but do not worry, future classes will be held as the demand is increasing. Please send an email to contact@danceabilitymovement.com so we can add you to a waiting list and contact you if we start a new class.
We still have some spots available for our kids/teen's class (ages 9-15). Online registration is available on our Parent Portal. All you have to do is to create an account, register and pay.
In-studio registration will take place this Sunday, January 26th from 9:30 am to 11:30 am.
Click here for more information on our dance program at the Creative Children's Centre in Toronto.
Call for volunteers!
We are looking for more volunteers for our dance classes at the Creative Children's Dance Centre! Come out to our training session this SUNDAY, January 26th from 9:30-11:30 am in Toronto, or send an email to volunteer@danceabilitymovement.com to get involved!
Classes will run on Sundays beginning February 2nd: tots/kids' class from 9:45-10:30 am and kids/teens' class from 10:45-11:30 am.
This volunteer opportunity allows you to give back to the community in a meaningful way, can be used to earn volunteer hours, network, and share your love for dance and inclusion! With volunteers, dreams do come true!
*Important Disclaimer: stories are shared with the intention of promoting an inclusive society and increasing knowledge and awareness of our community. Views expressed are not representative of all participants and may not be indicative of your potential experiences.