Every year, Canada's National Ballet School runs the Take the Lead workshop in Toronto. This year, we were thrilled to have Hayley, one of our dancers from Bradford, among the forty young women from across Canada who attended the workshop. It was an inspiring weekend where participants learned how to make a positive impact on their communities through the arts.
As it would be a busy 4-day workshop and we wanted Hayley to make the most of it, we invited Crystal Chan, who is an OT and volunteered with The Dance Ability Movement for five years, to join us in the event to encourage and support Hayley whenever she needed.
"Stepping into new experiences can be intimidating but it helps when we are not alone", says Crystal. "Our goal was for Hayley to be comfortable in taking part in the activities and to have fun. Whenever we were learning a new dance or taking part in an ice-breaker, Hayley would often look in my direction to let me know if she was feeling the music or in the process of figuring out the choreography and needed some support."
One of the main reasons for Kylee, Hayley's mom, encouraging her to take part in this workshop is that they live in a small town in Ontario where there are not many opportunities to participate in inclusive events like this one. So, when they heard NBS was opening up the workshop to all dancers of all abilities, Kylee got her signed up immediately. "I was not sure what Hayley would get out of this experience", says Kylee. "I just hoped she would have a good time and learn some new dances and meet new people".
At first, Hayley had some hesitation dancing with the other dancers that were new to her but when she warmed up to the other dancers, she did not hold back to dance with them, especially on the last day. "She learned the new choreography in a short time and even performed her infamous worm move as a solo as part of the group choreography", celebrates Crystal!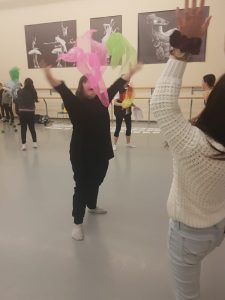 When the workshop came to an end, there was no doubt Hayley had had an amazing time. "What I liked most about the Take the Lead was the West African Jazz class", says Hayley. "I really liked the drums and the movements and we all got to dance as a big group at the end. I also liked helping the girls with our group routine and they liked the song I picked. I would really like to go back next year! It was fun and I would like to see Crystal again."
Although Kylee was not sure how Hayley would do in the workshop, she still wanted to give her a chance to try something new. "I never expected that Hayley would do all 4 days and be willing to keep coming back. But she wanted to and when she got there, she made new friends, loved her teachers and the girls from NBS and made a new buddy in Mallory, Jade and Crystal.  What more could I ask for?"
Hayley's story is such an inspiration to all of us. It's about BELIEVING we all deserve equal opportunities and CHALLENGING ourselves to TRY new things and THRIVE!
Our special thanks to Ashleigh Powell and Nancy Lehan from the National Ballet School for creating such an inclusive and positive environment and empowering others to take the lead in their community and lives through dance.
*Important Disclaimer: stories are shared with the intention of promoting an inclusive society and increasing knowledge and awareness of our community. Views expressed are not representative of all participants and may not be indicative of your potential experiences.