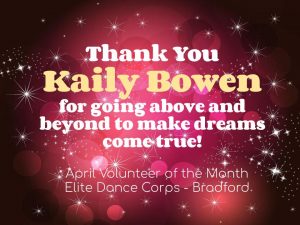 This is Kaily's first year volunteering with us at our Bradford location at Elite Dance Corps and we have seen in her the true spirit of connection and kindness.  Kaily has been consistently dedicated to showing up for our Kids Class and has been a great source of calm for the group!
Although Kaily's dancing buddy wasn't always in class, she was always willing to jump in to help with other dancers and managing the group dynamics.  Kaily has continued to be a constant presence in our virtual world of dance classes, she continues to show up for our online classes, bringing her smile and friendship to the group.
Kaily also took the time to share a personal message to her dancing buddy, something we know went a long way in brightening that dancer's day as the dancer was then able to reply to Kaily's message and looked forward to seeing her online for classes!
Thank you SO much, Kaily, for continuing to build a sense of community among the dancers even during this time of uncertainty!  Your calm, cool, and collected approach in and out of the dance studio has gone a long way in building a safe and comfortable community for all dancers!  Thank you for continuing to make dancing dreams come true!