Hello again, Dance Ability community! In this post, as part of our OT celebration month, we would like to recognize and thank Sabrina Curatolo! Sabrina is our primary OT at June Lawrence School of Dance in Mississauga.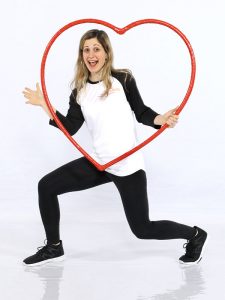 Q: What was your first interaction / experience with The Dance Ability Movement?
A: Attending a class at JCB Danceworks after reading about The Dance Ability Movement on The Children's Treatment Network website.
Q: Why do you work for The Dance Ability Movement?
A: The Dance Ability Movement is truly an inspirational organization with a simple mission — uniting people through dance! Dance is something that has been a part of my life for as long as I can remember and is the one thing that continues to get me through some of the most challenging and beautiful moments. When the music starts, feet start moving, and smiles start shining, watching our dancers transform and connect with others is truly a magical experience that I am so happy to be a part of!
Q: Share one highlight / memory / moment from a dance class that has impacted you or stuck with you!
A: Attending dance classes in my child and teen years connected me with friendships that I still continue to have today. It's the little funny moments in dance class that accompany learning new steps together, practicing, and performing that we still reminisce about that have stuck with me. Connection is embedded in dance and during my time so far at the Dance Ability Movement I have been reminded of that. In one of my classes, when a dancer was having a difficult time joining the group other dancers encouraged them to join in and in true Dance Ability spirit wanted to make sure everyone in the class was included – this truly was such an awesome thing to see and touched my heart!
Q: Share something you've learned from your experience with The Dance Ability Movement, it can be from our team, the volunteers, the dancers, families, etc.
A: Since joining the Dance Ability Movement, it has really opened my eyes as to how much positivity and strength can come from community. Everyone involved with the Dance Ability Movement is always eager to lend a helping hand or smile – this is a beautiful thing! Mallory and Jade have brought together and helped create such a wonderful network of people that have all become connected through one thing – dance. This common connection has created so many other connections (friendships, support, information sharing, etc.) and allowed those involved to connect on a variety of levels. Being part of the Dance Ability Movement has really let me see first hand what belonging to a community truly means!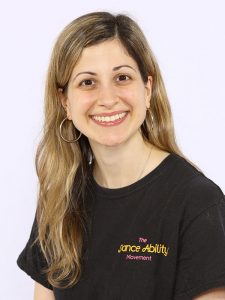 Q: Do you get stage fright?
A: I usually get butterflies in my stomach before performing, but once I get on stage and the music starts they tend to go away and dance takes over!
Q: What's your favourite part of dance class?
A: Learning and putting together new choreography and steps – I love that feeling of breaking down, practicing, and finally mastering a new step!
Q: Any credentials, training, area of expertise you want to share on our website?
A: Registered Occupational Therapist (Ontario), Ontario Certified Teacher (Additional Qualifications in Special Education), Certified Zumba Instructor (Zumba Basic, Zumba Kids, & Zumba Kids Jr.), Canfitpro Licensed Fitness Instructor
Q: Anything else you want to share on our website?
A: My favourite inspirational quote: "Take your passion and make it happen!" – Irene Cara.
Thank you Sabrina for your hard work and dedication! Your passion brightens our lives and we appreciate all that you do!