Hello Dance Ability community! As you know, October is Occupational Therapists Appreciation month. We want to recognize the amazing OT's that help make the Dance Ability Movement what it is! In this post, we want to recognize the wonderful Elyse Goodfield from our Richmond Hill studio JCB Danceworks who is new to the Dance Ability Movement this year!
Q: What was your first interaction / experience with The Dance Ability Movement?
A: My first interaction with The Dance Ability Movement occurred when I was an occupational therapy student. Mallory and Jade presented to our class and I was so excited to hear about an inclusive program for individuals of all abilities that combined my passion for helping others with my passion for dance. I remember thinking; "I would love to be a part of The Dance Ability Movement one day." I am so happy to now be a part of the team!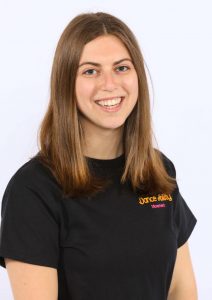 Q: Why do you work for The Dance Ability Movement?
A: I work for The Dance Ability Movement, because of their commitment to inclusive, accessible and innovative programs for individuals of all abilities. The Dance Ability's philosophy that every child is unique, deserves equal opportunities and has the ability to dance closely aligns with my personal values. I truly believe in using an individual's strengths to help them achieve their goals. In addition, I was a competitive dancer for ten years and observed first-hand the positive impact dance can have on an individual's self-confidence, skill development and overall health and well-being. The Dance Ability Movement provides an exciting opportunity for me to combine my clinical experience as an occupational therapist with my love for dance to help others reach their full potential while having fun!
Q: Share one highlight / memory / moment from a dance class that has impacted you or stuck with you!
A: One of my favourite memories from the past season was the final dance class and performance. It was amazing to watch the dancers preform with confidence and to see their overall growth and development. It was also gratifying to see all the dancers congratulate one another at the end of their performance, highlighting the sense of community and teamwork that formed throughout the season.
Q: Share something you've learned from your experience with The Dance Ability Movement, it can be from our team, the volunteers, the dancers, families, etc.
A: During my experience with The Dance Ability Movement, I have learned the importance of collaborating with dancers, parents, volunteers and the community to provide creative and meaningful opportunities for dancers to achieve their goals!
Q: Do you get stage fright?
A: Yes! A trick I use is taking three deep breaths before I go on stage.
Q: What's your favourite part of dance class?
A: Freestyle! I love the opportunity to create my own movements and show my personal style while using props and dancing with my peers.
Q: Any credentials, training, area of expertise you want to share on our website?
A: – Registered with the College of Occupational Therapists of Ontario
-Canadian Association of Occupational Therapists Membership
-Handwriting Without Tears: Pre-K Readiness & Writing + K-5 Handwriting
-Nonviolent Crisis Intervention Training
-Indigenous Cultural Competency Training
-Sensory Processing & Self Regulation: Evidence-Based Practices for Everyday Life
Thank you Elyse! You are a great addition to our team and we admire and appreciate your hard work and passion in the Dance Ability Movement!