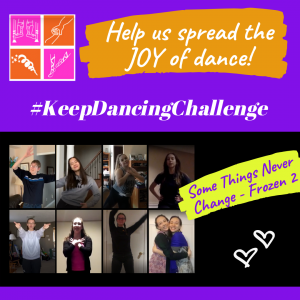 Welcome to week 3 of our #KeepDancingChallenge! This week we've chosen a song from the new Frozen 2 movie: "Some Things Never Change".
Even though we are going through a lot of changes right now, it is important to remember that we have each other and we can keep dancing at home. We realize now more than ever the power of our community.
Thank you to our amazing volunteers and dancers who are submitting choreography videos so that everyone can keep dancing together at home.
Check out the video on our YouTube channel: https://youtu.be/xSzdMOiTTeU
We hope you sing, dance along and enjoy this new video!