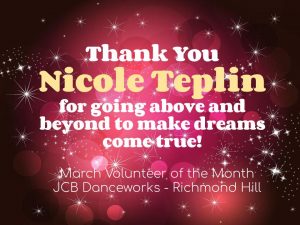 Although this is Nicole's first year with the Dance Ability Movement, her enthusiasm, attention to detail, and willingness to jump into unpredictable situations make us feel as though she's been on our team for years.
Nicole brings a wealth of energy and light to our studio. She is consistently seen taking initiative in the class to support the teacher, implementing different techniques to enhance participation, and celebrates all the successes of our dancers no matter how "small" they may appear.
Nicole brings genuine passion to our Dance Ability classes and it is clear that she has a love for working with dancers of all abilities.
Thank you, Nicole, for all you do to make our dance classes such a positive space for our community of dancers at JCB Danceworks!