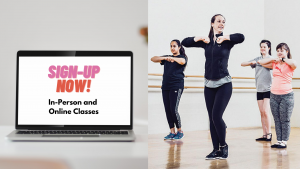 Students can NOW register for our dance classes through the Parent Portal. We are offering in-person and online classes depending on each studio availability.
For now, in-person classes will be available only for select classes and for dancers who can safely participate according to Covid-19 protocols (Teens, Tap, & Bridging Steps) at the following studios: Creative Children's Dance Centre (Toronto), Dance Elite (Milton), Elite Dance Corps (Bradford), JCB Danceworks (Richmond Hill), June Lawrence Dance School (Mississauga), and The Dance Workshop (Alliston). At this time, students registered for in-person classes must be able to independently remain inside of a taped box on the dance floor. Students who register for in-person classes will also have the option to join an online class in case they cannot attend it at the studio. Please see the 2020-2021 In-Person Classes schedule for more information.
It's important to highlight The Dance Ability Movement classes will be following each studio's measures for the safety and well-being of our students and staff. On our website, on each studio's page, you will find a link to their COVID-19 safety protocol.
Online classes will be facilitated on Zoom by one of our team members, and taught by our qualified instructors. All classes are inclusive and seated adaptations will be modelled. Dancers residing anywhere in Ontario can register for these classes, regardless of the location listed if they do not plan to return to in-person classes this year and want to keep dancing online! Check out our 2020-2021 Online Classes schedule for more information.
NEW! Virtual Private Dance Classes.
Students can also sign-up for 30-minute virtual private sessions with one of our Occupational Therapists or Dance Instructors. Check out the options on the Parent Portal for OT-based dance services versus Dance Teacher services and connect with us to see what option better suits your dancer's needs!
Planning to book your first batch of 5 sessions? Email us for your discount code!
Registration Is Open to New Dancers!
Do you have a friend that would love to dance with us but couldn't join our classes in one of our studios? Now, they can join us in one of our online classes to improve their dance skills, have fun and connect with new friends!
New students will have a 30-45 minute meeting with one of our OTs through Zoom to assess their needs, set their goals and prepare for the start of classes. Each NEW dancer will receive a 1-2 page summary report completed by the consulting OT outlining the dancer's participation in class and strategies used to support skill development. Our Occupational Therapists are trained in using the PREP approach and look forward to helping create your participation team!
Interested dancers can contact us at contact@danceabilitymovement.com or create an account on our Parent Portal