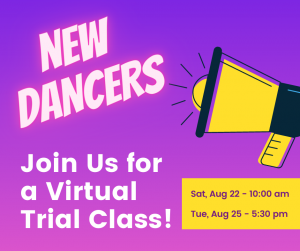 New dancers are invited to join us for a trial virtual dance class with Miss Jade & Miss Emma! This is a great way to get connected with us via Zoom, try out a few dance songs at home, and meet some of the Dance Ability Movement team.
We will provide an orientation to our virtual dance classes, share information about our upcoming season, and then connect you with an Occupational Therapist who will be in touch with you to complete an intake before the dance season starts!
Virtual Trial Classes
Saturday, August 22 – 10:00 AM
Tuesday, August 25 – 5:30 PM
If you're interested in joining please e-mail us at contact@danceabilitymovement.com for the event link.