More than connecting with our dancers, our volunteers play an important role in inspiring and helping them participate in our dance program to the best of their abilities.
Recently, our volunteers from Ballare Dance Studio in Ancaster have positively surprised us with their ability to create a fun and inclusive environment through developing a deep understanding of each of the dancers' needs and strengths.
"When I went back to the studio to check-in on how the class was managing after being away for 4 weeks, I was so impressed!", says Jade Ryan, The Dance Ability Movement Director of Inclusion & Operations and Occupational Therapist. "The volunteers were understanding and mindful about balancing the dancer's interests, adapting to meet their individual strengths, and providing an encouraging and fun atmosphere to learn and grow."
It is important to highlight that the majority of our Ancaster volunteers are in elementary school (4 out of 6), so seeing them building these inclusion skills at a young age gives us such hope for the future.
We are also fortunate to have volunteers that are already in University and share our passion for dance and inclusion. Nina Acharya is one of them. She is volunteering with us for the first time and is a medical student at McMaster University. She has lots of experience with teaching dance in the past and has volunteered with the Best Buddies program.
"In the future, I want to be a paediatrician so volunteering with kids of all ages is always very beneficial," says Nina. "At the same time, because the Dance Ability Movement is based on occupational therapy, I have learnt a lot about the physical benefits of dance for children of all abilities and how it can be used to expand their range of motion, while also encouraging social development. Depending on what type of medicine I practice, I love knowing that programs like this exist!"
If you are considering a volunteer opportunity with The Dance Ability Movement, here is Nina's advice: "I would say to definitely do it! It is genuinely so much fun and a great experience."
Our heartfelt thank you to all our volunteers for your hard work and for recognizing the importance of having a fun and meaningful activity to keep a well-balanced lifestyle for all!
Do you want to join our vibrant dance community as a volunteer?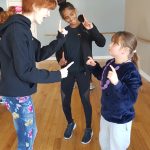 Please complete our Volunteer application form: https://danceabilitymovement.com/volunteers-2/
This volunteer opportunity allows you to give back to the community in a meaningful way and can be used to earn volunteer hours, network, and share your love for dance and inclusion!