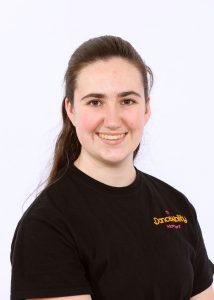 The Volunteer of the Year award is presented to a volunteer who has consistently gone above and beyond in their role, has been an exemplary role model sharing their passion for dance, and demonstrates the values of The Dance Ability Movement by helping us build our dance community.
Robin began volunteering at our Mississauga location, June Lawrence School of Dance, in 2018.  Since then, she has been dedicating her entire Sunday afternoons to helping in all of our classes. Robin is very attentive to the dancers and their individual needs and has a natural ability to quickly develop rapport with the dancers and help them to be their best in classes.  She is quick to recognize where the greatest needs are and jumps in to help out, providing a calm, gentle approach to dancers who need some comfort and reassurance, or a more energized and animated approach to match the excitement of other dancers. 
We are truly grateful for Robin's dedication and commitment to supporting our community and making dancing dreams come true!
Robin kindly accepted our invitation for an interview about her experience with The Dance Ability Movement. We hope you enjoy it!
What was the main reason that motivated you to volunteer with the Dance Ability Movement?
I have loved dance since I was very little and took lots of dance classes growing up. As I got older, I became involved in the special needs communities around me. I started working at a summer camp called Camp Misquah and met so many amazing people and dancers there. This made me realize how much fun we could have dancing together and how important it was that everyone had those opportunities. I moved to Toronto for school and my mum saw something about The Dance Ability Movement online. As soon as she mentioned it to me, I knew it was something I wanted to be a part of. Being able to share my love for dance with so many incredible people is just something so special.
Do you think your experience with DAM has changed your perspective about inclusion and people of all abilities? How?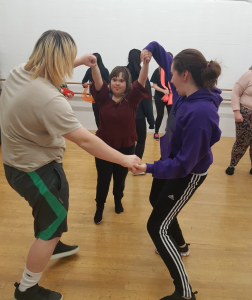 Volunteering with The Dance Ability Movement has definitely taught me also about inclusion and accommodation. I think one of the biggest things I've learned was that accommodation is not equal to limitation. And just because something is done differently doesn't mean it is less. I have seen dancers take the music and moves that we teach and, while changing them to fit their abilities, create something new and absolutely incredible. I have also learned so much about integrating individual adaptations in a group setting. People of all abilities dance together in the classes and the teachers and volunteers create individual adaptations for each dancer. This way each dancers' needs are met but we are all still able to dance as a group. We can do different activities and take different roles which highlight each person's strengths.
What was the most rewarding thing in volunteering with us?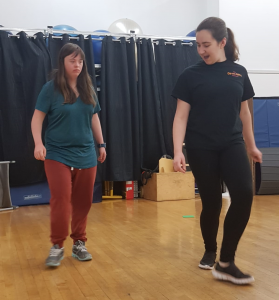 Hands down the most rewarding part of volunteering with Dance Ability is seeing the growth the dancers experience – not just in their dance technique but also in their confidence, and social interactions and so many other aspects. It is great to see a dancer master a new move, have the confidence to step out into the improv circle for the first time, and develop new friendships as they get to know everyone else in the class. A very close second is also the friendships you develop and just the overall positive energy. I have met so many amazing dancers, teachers and volunteers over the past 2 years with The Dance Ability Movement, and I have developed some very special relationships with them. I can't wait until we are all able to get back into the studio and dance together again.
And most challenging?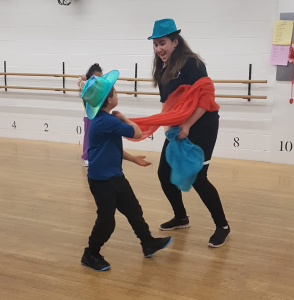 The way The Dance Ability Movement challenges my habits and expectations. Growing up taking dance classes which focused a lot on traditional technique- especially as a Jazz and Ballet dancer – I learned a very specific set of rules for what dancing was. In Dance Ability we get to change those rules and reframe them so that everyone is able to dance. This is an amazing thing but sometimes it can be very hard. I really enjoy how much it makes me expand my perspectives and expectations and makes me think outside the box.
What advice do you have for other people considering a volunteer opportunity with us?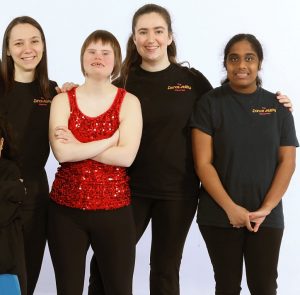 Please join us! It is such an incredible community to be a part of. All volunteers, teachers and dancers are so welcoming and supportive. My Sunday afternoons in the studio are always one of the highlights of the week. Just be ready to learn. In my first year as a volunteer, I learned so much from everyone around me about how to create an inclusive environment and how to support my fellow dancers. Keep an open mind and don't be afraid to think outside the box. It may seem a little overwhelming at first – there is usually a lot going on, especially during all the excitement and newness of the first few weeks, but the teachers, returning volunteers and also the returning dancers are always there to help you figure it out. Soon you won't be able to imagine not being a part of this amazing experience.