Hello everyone!
If you were not aware, April 29th is the international day of dance! We want to celebrate something so close to our hearts by sharing the amazing experience some of our volunteers were able to take part in thanks to Canada's National Ballet School in Toronto! Canada's National Ballet School hosted the Take The Lead Workshop as part of their Sharing Dance program which
invited dancers from across Canada, including several Dance Ability Movement volunteers to dance, create and share the arts and dance with one another. We asked two of our volunteers who attended the workshop, Emily and Jadyn, to reflect on the workshop and the importance of dance in their lives.
Q. What did you learn at Take The Lead? 
E: At Take the Lead we learned about dance in different cultures and how to become leaders in sharing dance. We tried a variety of dance styles and also discussed aspects of being a good leader in our communities.
J: I learned that everyone interprets and moves to music differently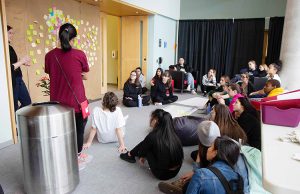 Q. What was your favorite thing you learned at Take The Lead? 
E: My favourite thing I learned was the importance of dance in different cultures. I loved trying new styles of dance that I would not normally be exposed to!
J: One of my favorite things was meeting dancers from all across Canada, learning about their cultures and their passion for dance.
Q. What did Take The Lead teach you about dance? 
E: Take the Lead taught me more about how dance can be used in different communities to build connections and promote inclusiveness, and how anyone can be connected through dance.
J: Take the lead taught me that all participants and their interpretations of dance can be blended into something beautiful and that a sense of community can be formed through dance.
Q. What does dance mean to you? 
E: Dance has always been a huge part of my life as I have been dancing since I was 3 years old. In addition to expressing myself through movement, dance for me is about community. I always feel at home and welcomed in the studio, and have built many close friendships through dance.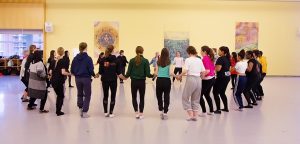 J: Dance is such a fun and unique art. You can communicate things you wouldn't be able to with words and form connections on such a deep level. Through dance, you are able to share your passion and love with others.
Thank you to Emily, Jadyn and Robin for being great representatives of The Dance Ability Movement and for your reflections! Also another massive thank you to Canada's National Ballet School of Canada and for this amazing opportunity. If you are looking for more information about the Take The Lead workshop or Sharing Dance click the attached link! https://www.nbs-enb.ca/Sharing-Dance/Sharing-Dance-Kids/Take-the-Lead