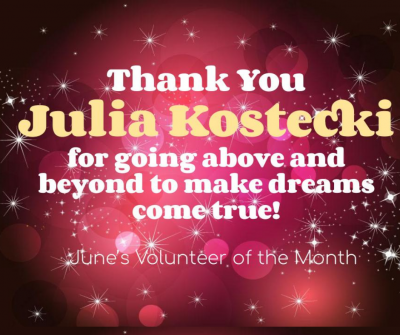 Julia began volunteering virtually and has grown into such a great role model in our community. She volunteers in many community workshop classes throughout the week as an ambassador for the Dance Ability Movement. Besides embodying an inclusive mindset, Julia has the ability to make everyone feel a sense of belonging.
Taking and applying feedback so well has allowed Julia to grow so much in her role. Julia models dance moves, challenges dancers to think creatively, and shows how much FUN dance can be! She is a true team player and is becoming a great leader in the DAM FAMILY and community.
We have received positive feedback from our community partners that Julia is a great team member in their group dance sessions and has been such a positive addition to the team.
We are so excited to see how Julia continues to grow in her FUTURE DAM role with us and look forward to collaborating with her more to continue sharing her passion for dance with others!
Thank you for being such a huge part of our team, Julia, and making dance a more fun and accessible place for all our dancers!