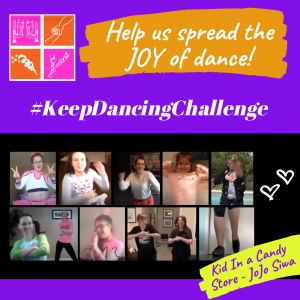 Missing the sweetness to your day? If you feel your moves lack flavour, let us show you that dancing is a piece of cake! Come dance "Kid in a Candy Store" by JoJo Siwa with us to brighten up your day!
A big shout out to all our dancers, teachers and volunteers who participated in this week's video and created the sweetest moves!
We would like to dedicate this choreography to JoJo Siwa, who is celebrating a birthday TODAY! May all the joy that you have been spreading through your music and dance come back to you on this day. Happy birthday!
Let's dance to celebrate JoJo's birthday and fill up our day with sweet vibes!
Check out week 9 video of our #KeepDancingChallenge on our YouTube channel: https://youtu.be/BP3vhDyKfwk