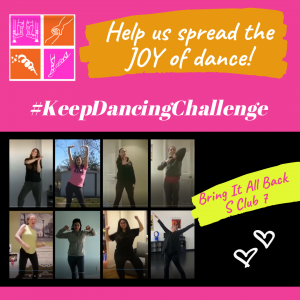 While we are living challenging times, we have to do our best to keep a positive attitude and support each other. We can use our imagination and a little bit of technology, so DANCE can still bring us together!
Each week we will post on our YouTube channel a new choreography as part of our #KeepDancingChallenge! More than keeping you active, we really hope this initiative will fill your weeks with a lot of JOY and FUN.
To kick-off our #KeepDancingChallenge, our wonderful team members came together to create great dance moves for the "Bring It All Back" song by S Club 7. We loved it!
Are you ready to dance with us?  Watch the video: https://youtu.be/vp06eJN9ZPA
Please make sure you have enough space to move around safely and do not attempt anything you are unsure about. Feel free to invite your parents and siblings to join you!
We would love to see you dancing along to this new choreography! If you post pictures or videos on your social media channels, don't forget to tag us (The Dance Ability Movement) and use the hashtag: #KeepDancingChallenge.

Stay Safe & Keep Moving!