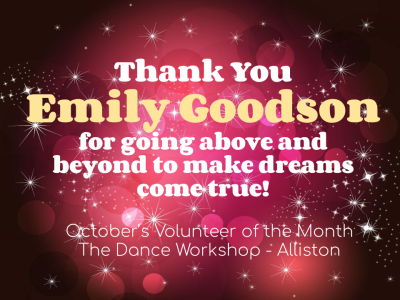 Emily has been a long-time member of our Alliston FAMILY at The Dance Workshop. She has developed so much as a leader and has taken on so many different roles within our team that has made our FUTURE even more representative of our inclusive community.
Emily works closely with the dancers in the class and develops FRIENDSHIPS that extend out into the community. She also has been one of our team leads and has supported our outreach to bring in more volunteers to our team. Emily understands how to use a strengths-based approach with our dancers both in-person and virtually.
"One word to describe why I dance with the DAM is acceptance. I believe that despite our differences, everyone deserves equal opportunities and chances to be loved and feel a sense of community", says Emily. "I have known many of the dancers before I joined the DAM, and I absolutely love the community and the diversity of the group. The inclusion is amazing, and it's a very wholesome experience. I live for DAM!"
Emily, we are so lucky to have such a great leader and advocate on our team and thank you for all you do to continue the work of the Dance Ability Movement into the community.