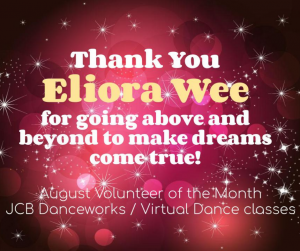 Eliora joined our team this past season, eager to learn more about the field of Occupational Therapy, and share her love of helping others! Eliora was matched with a new dancer at JCB Danceworks who also happened to join late in the season – and they immediately hit it off!
On her first day, Eliora welcomed two new dancers into the studio as if she had been part of our community the whole time, while also being open and eager to learn from others. She fit seamlessly into the team, and brought positive energy and new ideas to the group.
Although Eliora did not have the opportunity to perform on stage with our dancers this year due to COVID-19, she continued to volunteer actively online. In addition to volunteering in weekly classes, contributing to our Keep Dancing Challenges, and meeting new dancers through our summer classes, Eliora has taken on other initiatives to support our community.
She has developed several resources for our dancers and families on how to use the Zoom platform for virtual dance classes and return to the studio with new COVID-19 protocols in place. We are grateful to be able to share these with our dancers this fall.
Eliora is also excited to be one of our first PEN friends – and we are very grateful for volunteers like her who understand the true value and meaning of friendship – and its extension beyond the studio!
Thank you, Eliora, for making dancing dreams come true!