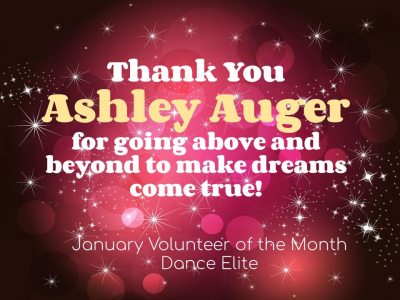 Ashley began volunteering in the summer with our virtual classes and has continued into this season online with our HDSA classes and in-person at Dance Elite. She has shown such a strong commitment to her role, with perfect attendance.  Her warm and welcoming personality makes class FUN for all the dancers.
With a genuine approach, Ashley has quickly made FRIENDS with dancers her age, and has become such a great role model for our younger dancers. Ashley is always prepared for the FUTURE, remembering from week to week what the dance moves are, and jumping in to help others remember as well!
Ashley often offers to complete the weekly notes for the classes, showing a great commitment to her role. Her positive energy, bright smile, and support for dancers even behind the scenes does not go unnoticed!
Thanks, Ashley for all you do in making our Dancer's dreams come true! You have been such a wonderful addition to our DAM volunteer team!