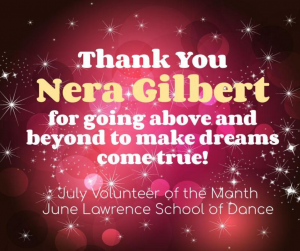 Nera started volunteering at our Mississauga location this past season. She jumped right into the role with a patient and positive attitude. Nera takes initiative by offering to help instructors and noticing when dancers may need patient encouragement or a friendly face to join the group
Through her warm and welcoming smile and demeanour, Nera creates a fun and safe atmosphere. She always seems to be truly enjoying herself through dancing and connecting with others.
When we transitioned to virtual classes, Nera continued with dedication and commitment to supporting dancers. She is consistent with providing positive feedback and words of encouragement using dancers' names over the screen. "Hi Everyone!" she greets the group each week – speaking clearly and kindly.
Nera has gone above and beyond in her role as a volunteer, especially amidst the new virtual dance classes – Nera has joined additional classes including the Special Friends Network camps, and also offered to be one of our first "Pen Friends" to write letters to dancers who are socially isolated at this time.
We are grateful for everything that Nera brings to our community – Thank you, Nera!