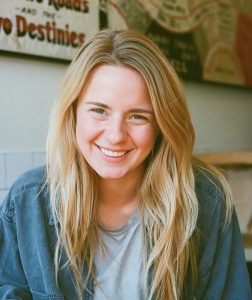 My name is Mara and I am an occupational therapy student from the University of Toronto!  For the past eight weeks, I have been working with Mallory and Jade along with three other students to complete our third fieldwork placement.  I was ecstatic when I learned I had been matched with the Dance Ability Movement!  Dance has always played a big part in my life.  I was involved in various dance classes at a young age ranging from ballet to hip-hop and everything in between! I was a competitive dancer for about 12 years and continued dancing all throughout my undergraduate degree at McMaster University on their competitive team.  Additionally, I have had various opportunities to work with special populations and kiddos with exceptionalities!
Throughout all of these experiences as well as during my time with The Dance Ability Movement (DAM), I realized how special dance could be especially with respect to communication and connection.  Dance can be used as a vehicle for expression.  It can help tell a story, convey feelings and emotions, and connect with others and with ourselves.  Body movement can be expressive and communicative.  It can be used as a means of self-expression where words are not necessary – the body does all the talking!   Slow movement can convey feelings of sadness or melancholy whereas sharp, explosive movements can express strength and joy.  For me, dance has always been a way to communicate things that I couldn't verbalize and helped me express myself in a creative and personal way.
I have also learned that there are many parallels between dance and verbal communication.  For instance, dance steps can be seen as words and stringing them into a sequence may work as a sentence.  The composition of these sequences will reflect how thoughts were composed and the quality of movement may reflect the tone of voice.  For individuals who are non-verbal, dance can be used as a tool to express themselves freely. Instead of using words, dancers are able to use movement to share what they are thinking and how they are feeling. No words necessary! Dance can help to tell a story and convey emotions, thoughts and feelings ultimately helping dancers to communicate in a way that is meaningful to them.
In conjunction with communication, dance is also a means to create connections.  In class, dancers engage in the same movements, dance to the same song and share the same space ultimately bringing them together as they participate in the same activity. Dance class is also a place where friendships blossom as dancers create connections with other dancers, volunteers and teachers. This environment helps to create a sense of belonging, where dancers feel like they are a part of a community and feel as though they can be themselves!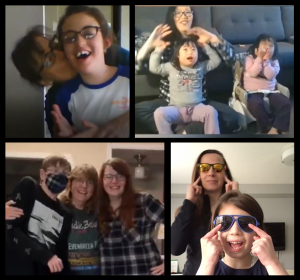 At the beginning of May, mom's and maternal figures from across the studios came together (…or on screen) to celebrate Mother's Day by joining virtual classes and dancing up a storm with their kid(s) to the song Mom by Meghan Trainor.  As soon as the moms joined their child on the "dance floor", the dancer's faces lit up!  With this upbeat, easy to dance song that spoke to just how awesome moms are, moms and dancers were able to let loose and have fun dancing, cultivating joy for the dancer and their moms!  Many were smiling from ear to ear as they danced side by side in the middle of their living rooms! What a wonderful way for the dancers to communicate their feelings and gratitude towards their moms through dance!
Here are some wonderful feedback Jade and Mal received from two moms that participated in the Mother's Day video:
"Thank you very much, Mallory and Jade! Steph and I did enjoy dancing together. Nice to have this keepsake" – Len

"This is awesome. Had me smiling ear to ear!  Thanks for this.  Best Mother's Day present ever! You are all the best!" – Elaine
Through these unprecedented times, the Dance Ability Movement (DAM) sought out an opportunity for parents to come together and share the art of Dance with their child as well as the rest of the dancers in class, creating a beautiful sense of connectedness among the DAM community.
DAM's weekly virtual Dance classes have helped to create some sense of normalcy these past couple months.  For some, it has helped to create a routine, a scheduled time to engage in movement and an outlet to release some silly energy.  For others, it has been an opportunity to interact with their dance teacher and class peers, a chance to "see" their friends and to still feel connected to their dance community.  Whatever the reason for joining, The DAM team has brought the DAM community together virtually, positively contributing to each individual's mental health.  It is truly inspirational to witness the strength and resiliency of the DAM community coming together to support one and other through dance.
As a student OT, I have come to learn that dance provides the opportunity for individuals to create connections and express one's self, proving to be an extremely valuable occupation for children. It has been such an incredible experience watching these concepts that I have learned in class comes to life within the DAM program through their occupational services and outstanding team of teachers and volunteers!
As we continue to live through this unique time, let's remember that dance will always be there to support us, help us communicate things that cannot be verbalized and help us stay connected to one another.
Stay well.  Stay safe.  Stay connected.
And remember…Keep Dancing Like Nobody's Watching!
*Important Disclaimer: stories are shared with the intention of promoting an inclusive society and increasing knowledge and awareness of our community. Views expressed are not representative of all participants and may not be indicative of your potential experiences.