Join the FUN from April 12th-16th, 2021!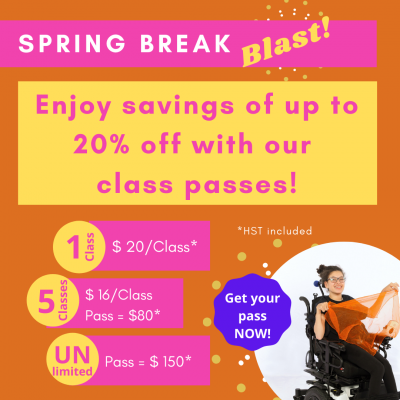 Spring Break Blast has been moved to the week of April 12th, 2021!
With the government's decision to postpone March Break, we have moved our Spring Break Blast to the week of April 12th, 2021. Since the measures to stop the spread of Covid-19 have been constantly changing to ensure the safety of our community, we will keep our families posted in case of any updates. Thank you for your patience and understanding!
Join us for our first Spring Break Blast ever! We have a variety of virtual dance classes and activities to keep you moving and having fun all week long! Check out our class options for Kids/Tots and Teens/Adults running from April 12th-16th, 2021:
Musical Theatre
Creative Movement
Ballet (Tots/Kids)
Jazz Bop Kids
Cardio Dance
Hip Hop
Ballet/Lyrical
PJ Party & Bedtime Story
Lunchtime & Dinnertime Chats
Our Online Classes will be taught on Zoom by  Dance instructors and Occupational Therapists, Emma Greenberg and Jade Ryan. All classes are inclusive and seated adaptations will be modelled.
For our class descriptions and schedule, please check out our Spring Break Blast flyer.
Enjoy Savings of up to 20% off with our Class Passes!
You can purchase a 1 Class Pass or you can enjoy savings of up to 20% off with our 5 Class Pass or our Unlimited Class Pass to fill your week with lots of DANCE and FUN!
Passes are on sale on our Parent Portal. If you are new to the Dance Ability Movement, you will have to create an account on our Parent Portal to purchase your pass.
If you have any questions about our Spring Break Blast program, please reach out to us at contact@danceabilitymovement.com
Schedule: April
12th-16th, 2021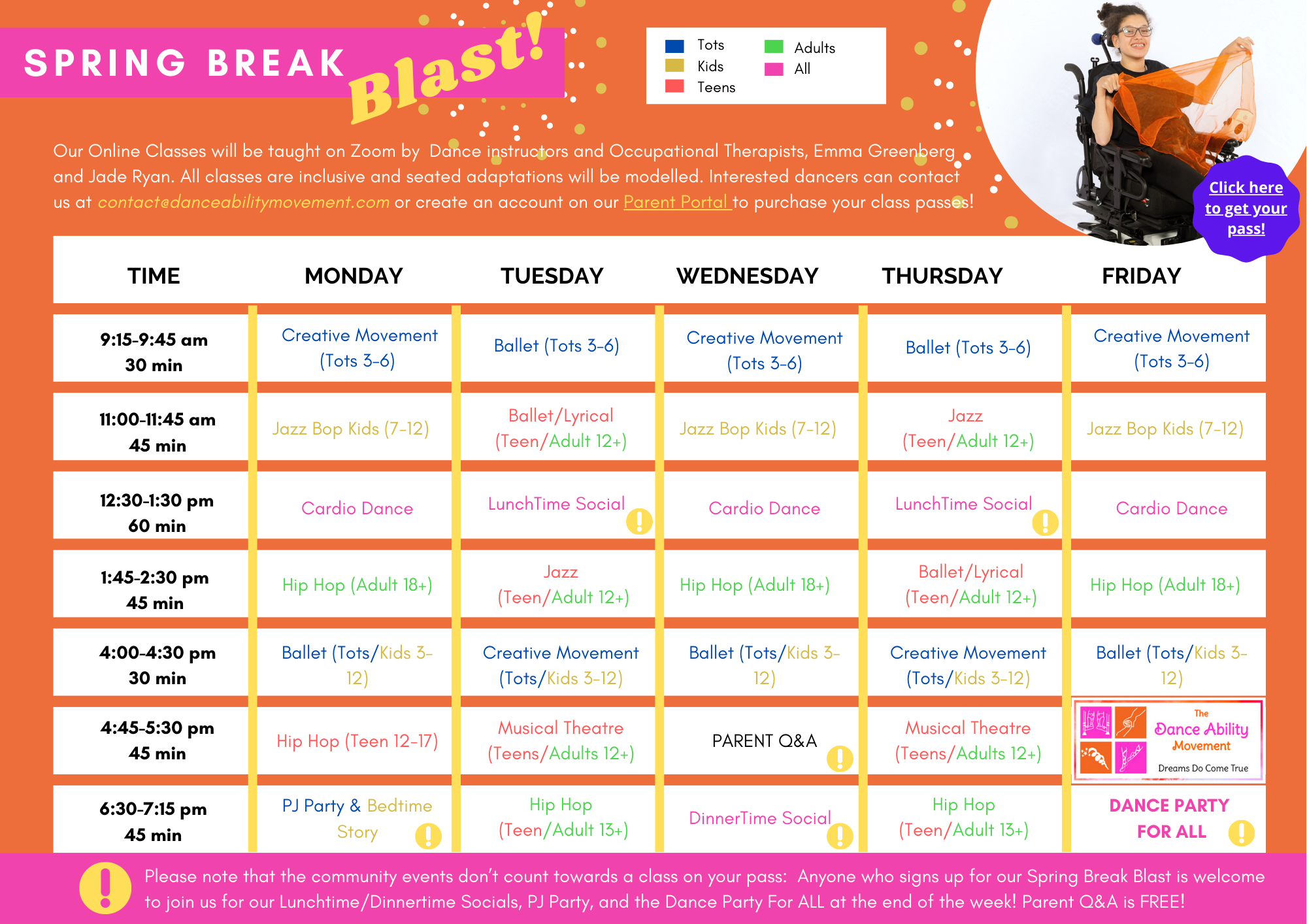 2021 Spring & Summer Programs TBD – Stay Tuned!
Join us in the spring & summer for our 8-week virtual class sessions!
We are planning an 8-week virtual session for May-June as well as July-August 2021.  In-Person options may be available but planning will be done once COVID-19 lockdowns are lifted and activities are allowed to resume.
Please use the Parent Portal or e-mail us at contact@danceabilitymovement.com to register!
Virtual classes are not studio specific, dancers can register for any class that suits them!  Registration for our 2021 Virtual Spring & Summer Season will begin later, NEW and returning dancers welcome!
 Below are previous summer options.  Due to COVID-19, our programming will depend on whether in-person activities are allowed to run.  See below for our summer schedule, along with descriptions on previous in-person camp styles offered in the summer.  We are hopeful to have camps running again in future years when it is safe to do so.
Half Day Camps including: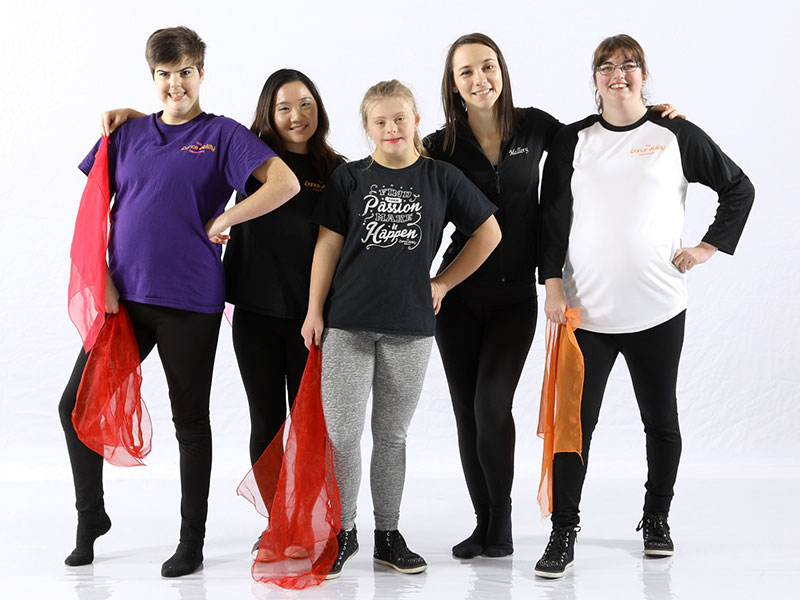 Dancing Through Life
(Teen-Young Adult):
This half-day camp is dedicated to teens and young adults who love to move and are looking to develop skills in relationship-building, healthy living, and self-confidence through the shared experience of dance. Dancers will create and organize a showcase including their own choreography to perform at the end of the week.
---
@ June Lawrence School of Dance, Mississauga
12:00-4:00 PM
COST: $325 +HST (Applicable for dancers ages 12+)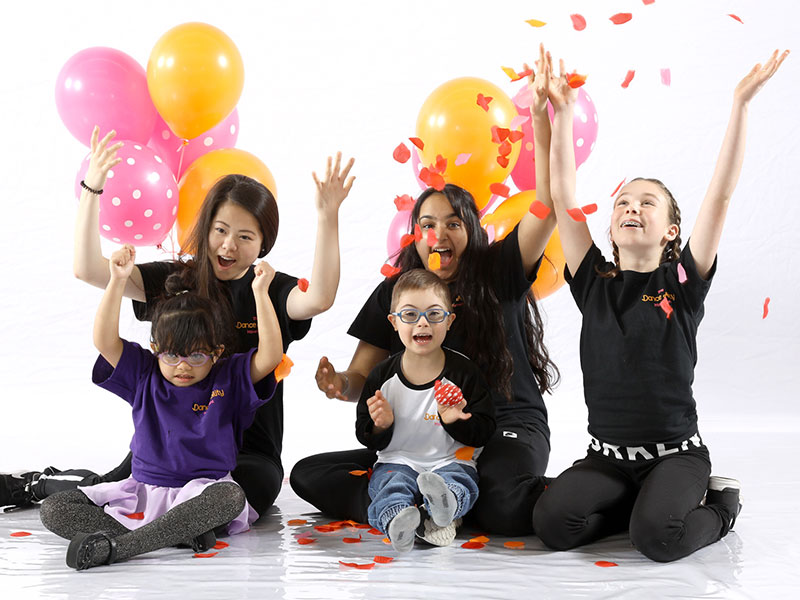 Set the Stage
(Pre-school and School Age):
This morning camp is dedicated to pre-school and school age children preparing for school in the fall. Children will have opportunities to develop both Fine & Gross Motor Skills through the use of dance and the Handwriting Without Tears Program.  Occupational Therapists will provide direct support to enhance your child's pre-printing and/or printing abilities. A great way to practice school skills over the summer in a fun and motivating environment!
---
@ June Lawrence School of Dance – Mississauga 
9:00-11:00 AM
COST: $350 +HST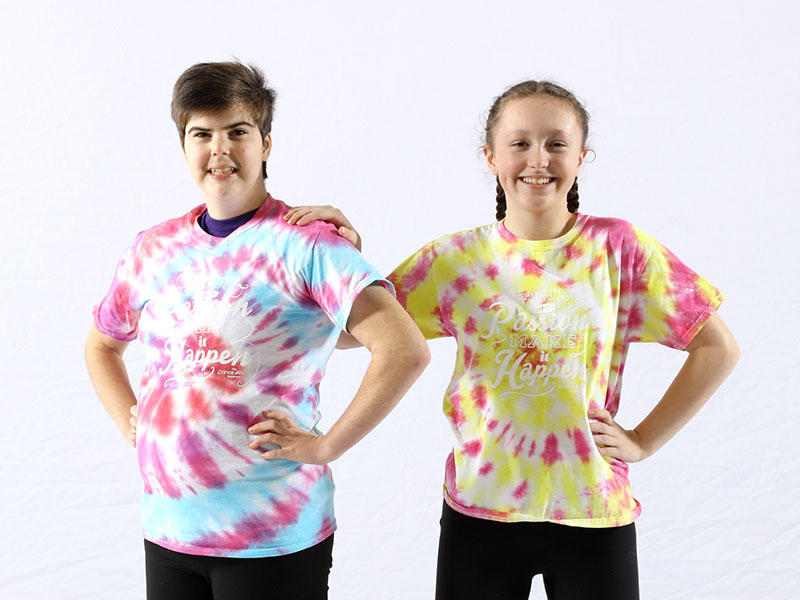 Dance Days (Ages 10+):
*NEW* Let's Dance! Each afternoon will be filled with a variety of dance styles, music, and movement! Dancers will use the Elements of Dance throughout the afternoon to explore movement and connect with each other. The focus will be Fun, Fitness, and Friends! Classes will be lead by Mallory & Jade, and potentially some guest instructors as well. No experience required, but a love for music and movement. Dancers will perform choreography learned at the end of the week for their showcase.
---
@ Dance Elite – Milton
12:00-4:00 PM
COST: $325 +HST